Shopping Cart
Your Cart is Empty
There was an error with PayPal
Click here to try again
Thank you for your business!
You should be receiving an order confirmation from Paypal shortly.
Exit Shopping Cart
connecting horse and human through body, mind & spirit
It's easy enough to do, for some.  Others have a difficult time deciding where or how to begin.  This has always been the case for my friend, Terri.  You could also call her my care giver or steward.  She never liked the word owner but to me she has always been my partner, benevolent leader, my student and my teacher.
She has learned over the years that she is a reflection of me and I am a reflection of her. It's been a journey of twists and turns over smooth and rough surfaces on a path to understanding who we are and what our purpose in this life is.
My name is Sasha.  I'm one of the horses that call Blue Heron Stables home.  I'm one of six horses that are living here at the farm permanently.  Our herd has an additional 11 horses at the moment.  Not often is there transition in the herd, but every so often some of our friends do leave and others will appear.  We are lucky that way. There is more stability in our herd than in other herds.
I'm 15 years old.  I was bred with a Belgian and a Standard Hackney.  I'm a big girl with the coloring of the Hackney horse.  My job as lead mare has been mine for 11 years. It's not that I'm not challenged everyday, but it's only to keep me on my toes, and eventually I will want to give up my position, so others need to step up every once in a while to practice those leadership skills and qualities.  Although some may see me as a very tough and assertive leader, which I am, it's only because I demand respect when it comes to my boundaries.  But we live very peacefully and as long as there is plenty of food, water and space, our herd is quite content to let me watch over along with my partner Tony.
My friend, Terri, has always wanted to write about the horses and her journey over the past 15 years.  Terri's mother constantly tells her that she has so many stories to share and that people would be very interested in reading about the wonderful stories that come from running a horse farm.  It seems sometimes, that with Terri, she's always felt the struggle to communicate with her physical words as well as her creative words on paper. So, it was my suggestion, that perhaps she write the stories through my perspective.  Maybe people would be interested in hearing about life on the farm as seen through the eyes of this horse.  I mean, I am one of the two reasons Terri and her husband Rick purchased this property.  My dear friend, Bear was the other reason.  He passed on in September of 2015. 
So, it has been decided that I will tell the stories, through Terri and although it will be lovely if they are read, this truly is an exercise in creativity, trusting our heart and intuition that the words coming from the heart through the body and into the fingers to create words to tell a story will help Terri grow into a confident writer and know that the stories that end up on the pages are heart warming, funny and full of love and truth.
Our friendship goes beyond just a horse and human.  We have learned so much from each other over the past 15 years and she has taken me on a journey that I'm so very much grateful for.  I am one of the lucky ones who have been given an opportunity to be heard because Terri decided that things needed to change.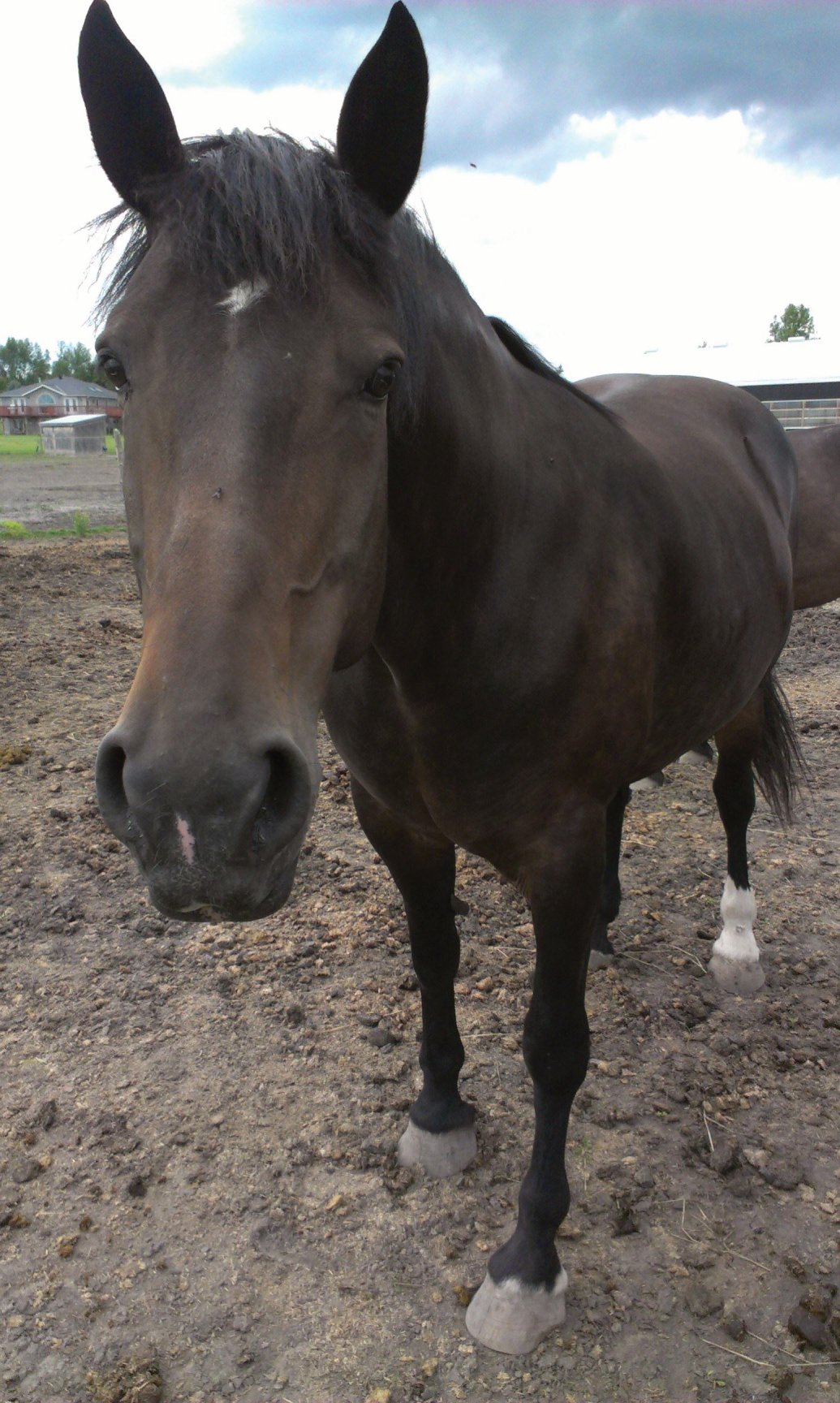 I hope you'll enjoy the stories that come your way as much as I will enjoy sharing them.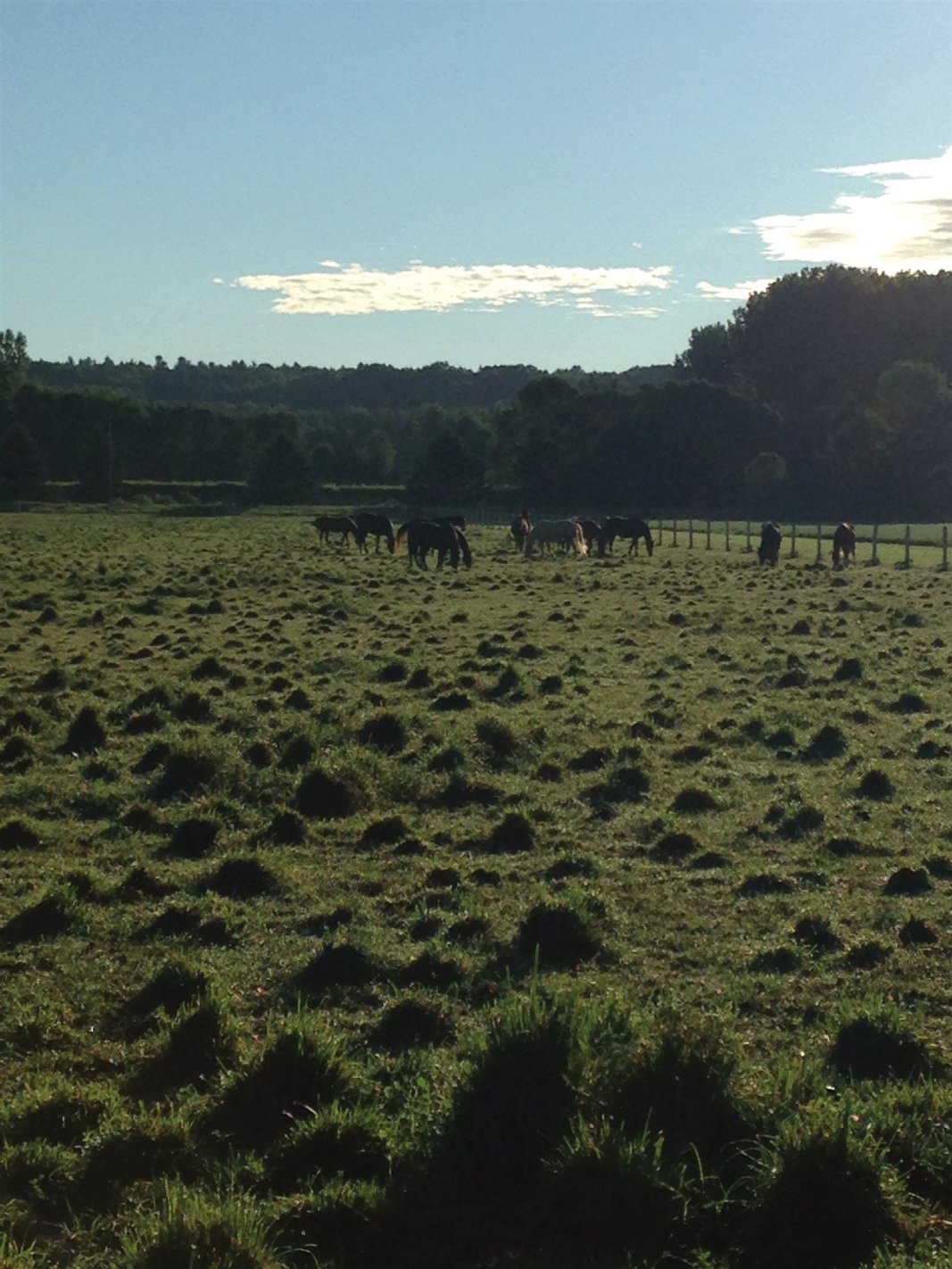 A wonderful friend of mine was out visiting yesterday and as we sat in our gazebo by the pond, she mentioned to me that there seemed to be more of a peacefulness to the property than ever before.  I asked my friend to explain what she meant by that as we had both mentioned that this place always has an wonderful vibe to it, but it seems, it was when she noticed that all 17 horses were now living a life as one herd with no closed gates between paddocks and fields which has allowed the horses to meander from field to paddocks without any restrictions, that there was a sense of ebb and flow.
It's true.  I don't think I have ever seen such calmness and a sense of real community since the horses have been given the opportunity to become one.  I must admit that I am very grateful to be able to provide that for these horses and when my husband and I have company it gives me such pleasure to be able to show our friends a little taste of "free horses". 
I can wake up in the morning and 17 horses are spread from one corner to the other corner of the 14 acres that they have to roam on, or I can come down to the barn and all 17 horses are together in a huddle in one of the paddocks.  Perhaps it's the meeting of the hearts,or some wise teachings being given out by the elders to the young geldings, who can provide so much entertainment by their rambunctious playing. 
So I am glad when I do force myself out of bed early in the morning hours in order that I might capture moments like the one above.  With dots of huge hearts on a green landscape below the blue of the sky, you might think these horses were roaming the foothills out west.  Some may say, it's only 14 or 15 acres, but for me it seems like so much more and it's been beautiful to witness how the horses responded to the space that they've been given.  It's been an ever expanding dream and I'm in much gratitude for those who have supported the unfolding of this vision.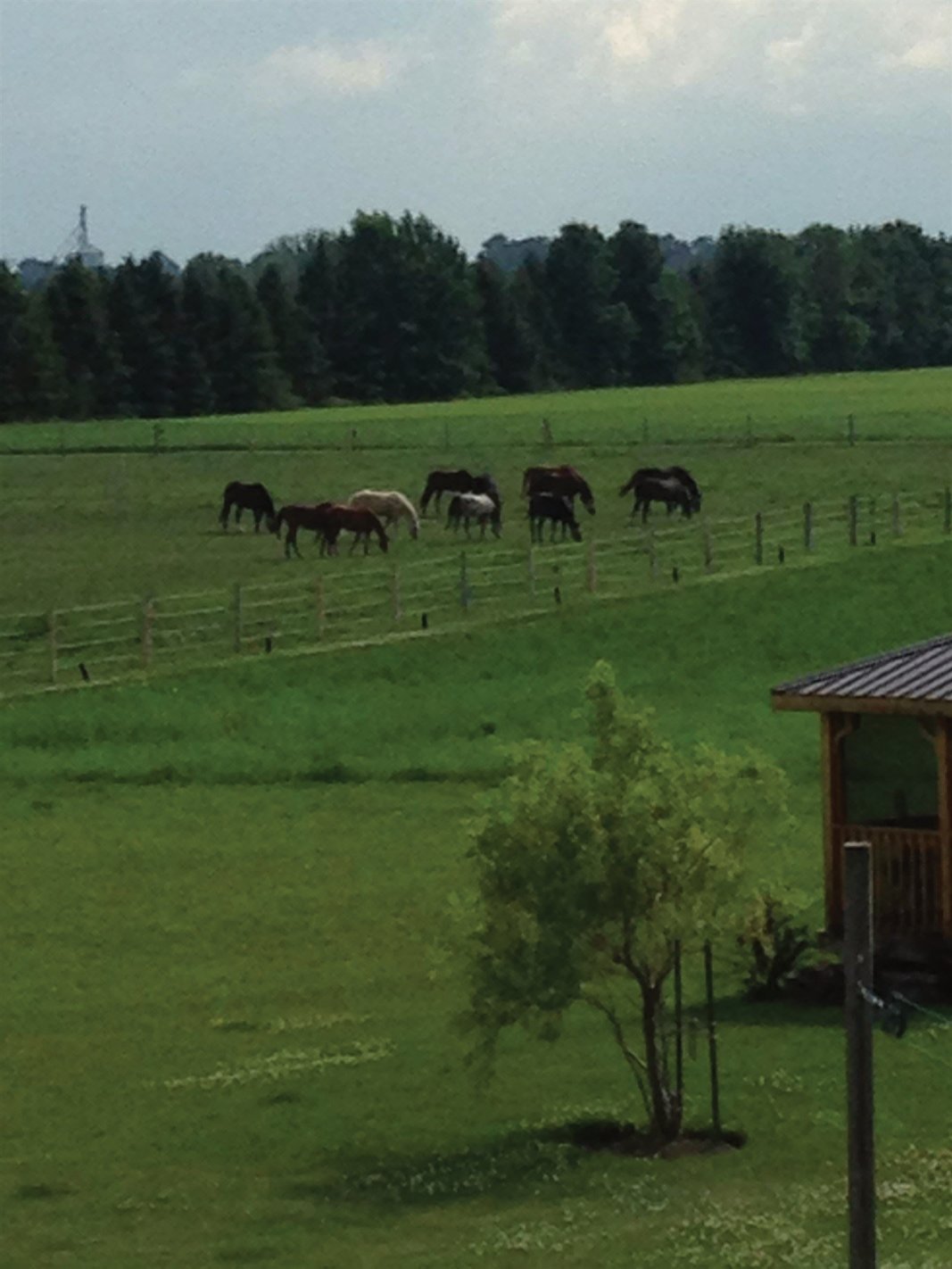 On a quiet evening at Blue Heron Stables, I have the pleasure of walking out on to my deck to overlook the calmness, the beauty and the comfort that is being shown to me in front of my very own eyes, the meshing of two herds, 3 weeks ago that has now quite obviously become one.
It seems when I look back on my 10 years of living life as a farm gal, I have been in the process of experimentation and the horses have graciously allowed me to learn through mistakes.  They have been patient with my inexperience and have allowed me to revel in my right choices and learn from those other choices.  I have gained so much clarity by surrounding myself with incredible teachers, but truly it is the guidance of the horses and the listening to my heart that has given me the gift to stand out here this evening and thank the universe for expanding my dreams to this point. 
There are so many nuances happening within the 15 member herd, that I am most grateful to be a witness to.  It truly is observing everyday, a huge family with little children running around, teenagers trying to find their way into the thick of the family, and the wisdom and knowledge being given out everyday by the elders of the herd. 
Unlike a wild herd , these horses come with people attached to them and that truly is the greatest gift of all because not only do I have a relationship with each and every one of the horses that live here, I also have a special connection with each and everyone of their companions.   To each and everyone of you, your trust and faith in the care of your horses and the friendships that you have given to me and my husband, are never taken for granted and most certainly I wake up every morning with the deepest gratitude for the experiences of love and laughter and tears.
"Life is good"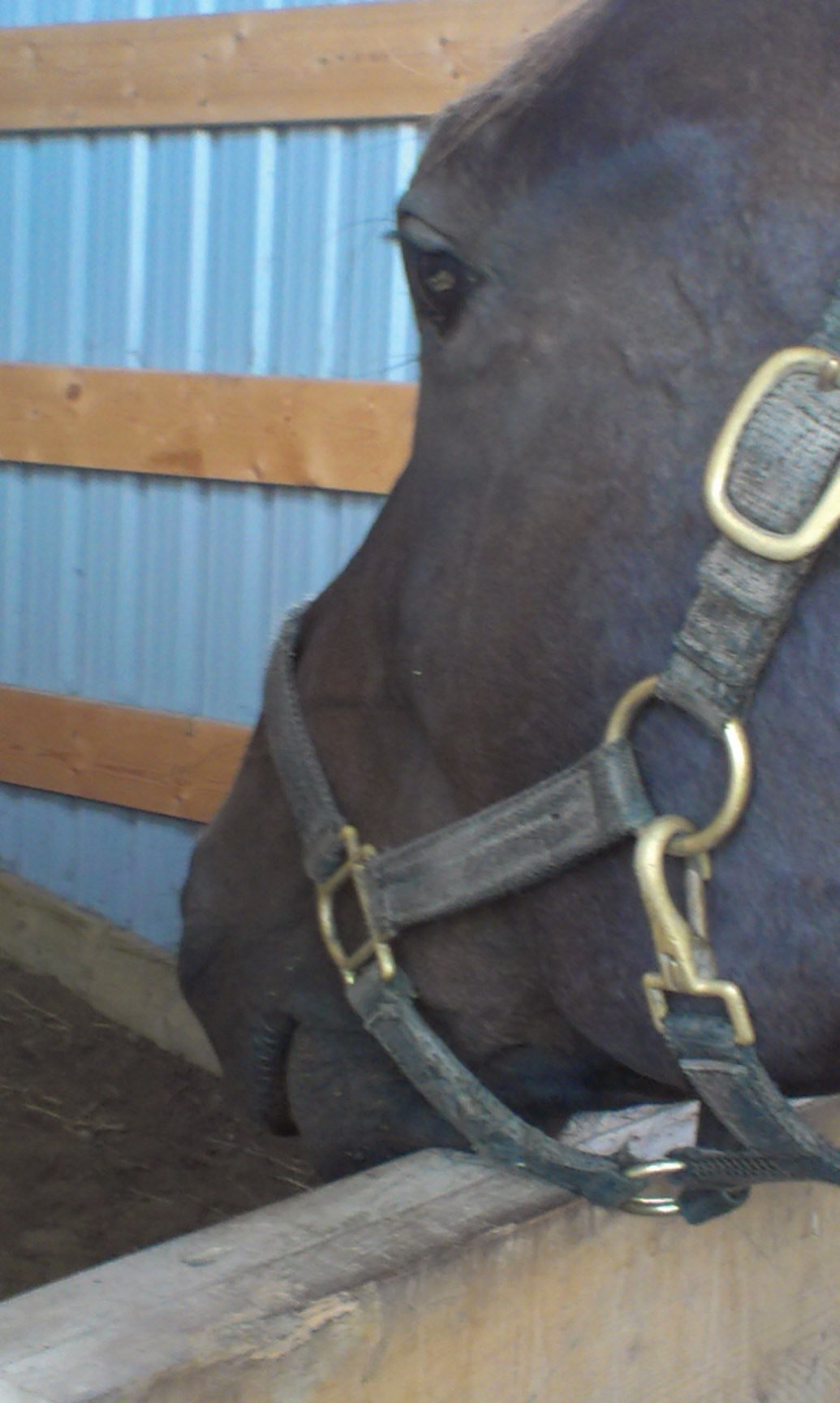 Sometimes it takes just a gentle nudge, from a friend, to take a good hard look at ourselves in the mirror. 
Most times, the friend is a sister, or companion, husband, or perhaps a daughter or a son, but we assume the friend to have 2 legs and a human brain.
Not in this case, and not this morning.....
As a recent graduate of the FEEL~Facilitated Equine Experiential Learning Program through Horse Spirit Connections, my knowledge of horses as teachers and my development of intuitive skills, gave me great strength knowing I had the skills to carry this beautiful work with horses and people out to the world  and with confidence....
However, I'm not perfect and there are moments when that little voice natters at me that horses are horses and not therapy doctors.  :)  trust me, it's just a tiny voice, but I know if we allow that voice to quietly enter our consciousness, it's amazing how loud that voice can grow.
But I'm not so easily mislead by that tiny voice in my head, as I used to be.  And a wonderful friend by the name of Billy once again confirmed what I truly know to be true....Horses are teachers, and friends and very intuitive.  I believe some horses are more gifted then others, just like humans can be more gifted with their intuitive skills, but I believe we all have that gift in us and we just need to practice it often in order to bring out the best of those skills we have been given.
So, while I was practicing my Energy Exercises with Billy (yes, he's a 10 year old Standard Bred) I got a sense that he wasn't feeling my authentic self...In fact I know he was getting that feeling, because even though on the outside I was trying to feel the energy coming from his body, I know that tiny little voice was snickering at me. My friend felt it, and walked away.....but it's where Billy walked to, that made me truly understand the  magic that I have been blessed to have in my life and be in tuned enough to be aware of the message he was giving me. 
Billy walked straight to a large mirror that is hung in our arena.  He stopped about 5 feet away from it and started to bang his leg on a chair that was sitting near the mirror, and then looked at me.  You have to know that I'm on the side of Billy that has no eye.....there is a large window on the other side that he could easily have looked out to see his buddies...that wasn't the case.  He was waiting for me to join him.  And it was then I knew what he wanted.  I walked up beside him and looked straight ahead at myself in the mirror.  After about a minute or two, Billy backed up - yes backed up...he didn't walk through me, he backed up and actually nudged me closer to the mirror, left me there , walked around the back of me to the arena door and put his chin on the ledge and waited. Now I was looking at his eye and the girl in the mirror.  Billy only has one eye, Billy gets bit quite a lot on his face so a lot of the time it looks like a mess, his chest can look scruffy because the flies love to eat off of him....so no, he's not a beautiful looking horse compared to others on the physical realm...and I know that's what he needed me to see.... that , what I might consider flaws, my freckles, my sun spots, age spots, laugh lines and grey hair and  my little Buddah belly, he needed me to look....beyond all of that, look past the blue eyes to the soul that actually lives in this body.  It's as beautiful as Billy is....I see it in Billy, I see it in the people in my life, I see it everyday in nature, why do I make it difficult to see it in me.  If I'm to believe that we are all somehow connected in this universe, then we are all beautiful inside....perhaps somewhere along the way that beauty gets lost amongst all the "stuff" that life can throw at us.  But I believe we never lose the beauty and love that we were given the very moment we entered into this world...Billy reminded me today, he sees in me what I can't see in myself, but what I see in Billy is truly reflecting back at me....an intuitive, loving kind soul....
Billy is only one of 10 teachers here at Blue Heron Stables, and I hope that people will take an opportunity to participate in a Reflections of You workshop so that you may experience what I'm blessed to experience everyday, here at the farm.
Running, butting heads, the chase is on.....
A car stops to observe, what so many would miss
They notice the audience member on the side of the road
And suddenly the antics subside and curiosity  begins
40, 60, it's hard to tell, as all I see are
      beings of beautiful browns and blacks
From across the road I see their interest in their eyes, they are not the
    novelty, it definately is "I"
We stare across the road at each other, mesmorized, curious....would they
always come to the fence to observe the stranger?  or did they KNOW
Did they feel something different, did I bring forth an energy...did they
     KNOW...
Could they know my bag was full of groceries consisting of vegetables and
fruits....
Did they notice an aura even from across the road?
Did others on the highway notice the 40, 60 sentient beings staring at me
across the black pavement....
Did I feel the LOVE.............   Yes
The love of beautiful, dewy eyed, living breathing, loving, caring, motherly,
energetic and fun COWS
Cows, who will one day rest on a bun or a plate and be called meat...
It was a special day....
I hope by stopping, sharing my energy of love, these incredible, emotional
       beings, felt something different at that very moment
Those cows in the field...
It's a new year.  And as with the coming of a new year, we all tend to decide what resolutions or changes we want to make in our life that we can all hopefully stick to. There are always the food resolutions, the weight resolutions, spend more time with my friends and family resolutions.  I decided to not do the resolution promised this year.
I have a plan in mind for 2013 and it's to unfold the dream of a farm that shows compassion to horses and humans alike. The dream to provide people with the knowledge about horses in a way that perhaps they never thought about. My dream is to have Blue Heron Stables represent horses in a way that we as humans can learn to trust, build confidence, build better relationships based on trust and leadership and compassion toward our equine friends.
I gave up riding almost a year ago based on feelings that I had felt for most of my life. The heart was voicing it's opinion in a stronger way then my mind could convince otherwise. So I decided to listen to my heart and my gut.  I also started to research the equine physiology and psychology, in order that I might understand fulling the effects that riding has on horses.  And I wanted to be able to answer peoples questions in regards to my decision, just in case anyone was interested :)
Although people are not busting down my doors to come and take horsemanship lessons from me, the wonderful girls that I do have come, have made me so proud.  These young women have opted to take their 1 hour riding lessons and learn from the ground up, from the importance of establishing a true deep connection with their horse, using no bits and bridles, and no saddles and a very strict limit of 15 minutes only on the backs of the horses. My goal is to show people that it doesn't have to be about the riding when it comes to horses, but it's also a lesson on the reasons why we need to consider whether we ride or not.  I want Blue Heron Stables to be the safe haven for those wanting to be with horses in a different way, to learn about horses in a different way and to provide an environment which people can feel comfortable knowing we are all doing the same thing together.
I have wonderful friends who have given me their support and respect for my decision to put away all of my tack, others will think me crazy, inexperienced, and uninformed but perhaps this is my resolution. 
To finally step out of my comfort zone, let go of the fear of embarrassment and self doubt and know that what is good for me and my horses will not be good for other people, but I will support and guide and provide the best service to my students as I possibly can to show them that my good intentions are for my horses and not to worry about comments about horses earning their keep, or "now what are you doing to do with them". They will do for us..... teach us confidence, compassion, self love, trust, leadership skills, ............  I've been a slow learner over the past 10 years, but I'm finally getting it and I see the gratitude in my horses eyes every day and with every student.
I hope that 2013 will be a year for all to see their dreams unfold. Think it....Believe it and you Will Receive it!!!!
As the season of summer changes into the crispness of fall, I find myself changing with the cooler winds that blow across our fields.  When the fields become empty of the soybeans and the eighth of the hay is not even enough for a field mouse to get lost in, I know that the hazy days of summer have ended and a sense of rejuvenation takes place within my body.
This is my favourite time of the year.  A small window of beautiful foliage from young and old maple trees, the sounds of the geese gearing up for their trip back to the south, the coyotes at night stirring up the quietness of the dark and the dancing and playing of the horses out in the field.  No longer being bothered by the pesky flies and the heat of the sun.  I look out and see jumps and kicks and rearing and bucking that only the cool air  and the nip in the wind can produce.
There are days when my body feels like jumping and kicking with the joy of autumn.  But it seems that turning 50 this year has reminded me that I am no longer that young mare who has all the energy in the world but a wiser and older mare who enjoys a good romp out in the field but knows when the body is tired and is happy to oversee her herd.  Turning 50 has also brought on emotions that seem to explode at the most inopportune times..... just ask my husband.  The emotional roller coaster that mid life can bring and has been mentioned to me by women who have already "been there" has been trying to say the least. 
Yesterday was one of those trying times.  I've come to a point in my life where I'm somewhat unsure as to my journey with horses.  At least up until this past week when I conducted my very first one on one Woman's Clinic with a lovely woman from Orangeville.  She came for 2 days, totally unsure as to what to expect, having no experience with horses and for me, praying that this experience with the horses would have an impact on her.  My prayers came true.  We had so much fun, lots of laughs and yes, a few tears as well.  But the most beautiful moments included Kim and Magic.  My draft cross mare showed me exactly why she is here on this farm.  Although she prefers to just hang out and eat and be the alpha mare in her herd, she showed me for two days what she could offer to people.  Kim went into the paddock to be up close and personal with the horses, and when the 4 left to go about eating, Magic never left her side.  Kim fell in love and through 2 days of working together , Kim found strength in herself that Magic drew from her.  She taught her how to be assertive, confident and a respectful leader.  Magic also showed Kim that putting up boundaries was a positive attribute that everyone should find in themselves, and can
easily be worked into their own lives. 
Those 2 days taught me one lesson....follow your dreams.  And my dreams have been to have a safe place for workshops involving the horses as teachers .  We have been blessed to have such a beautiful, peaceful energy on this property which allows people to come and truly walk away feeling at ease. 
My Sasha reminded me of that feeling yesterday.  I had not brought her in to work for quite sometime.  She woke me up and got me out of my head.... after  landing on the ground when she and her 1200 pounds decided to go right instead of left.  I was only leading her, as I don't ride my horses anymore...  but what was interesting and enlightening, was that this big mare saw me fall, stopped and came back and I believe looked at me and said " don't try and fool me with thoughts from your head..... I felt in your body that you weren't with me at the moment..... I'm always here for you, but you must always be here for me when we are together"   So with a deep breath I took up the lead rope and we went into the arena and all that she had been taught, she gave, sometimes with resistance and sometimes without.  She kept me on my toes and in the moment.  When we were done I sat at her feet and she never left, playing with my hair and keeping me safe.
Although my mid life is not a crisis, physical and emotional changes are inevitable, and I will just have to make sure I'm aware of those changes, which require I stay in the moment.  And I see that after the experience Kim had with Magic, that's what I want to offer people.  The magic of horses, the magic of enjoying every moment we are given and whatever comes up, then let it be....... being here on this farm is a gift for me and my family of horses are willing to share their gifts.....
When I became a vegan for ethical reasons, I turned a direction that has been rewarding, difficult at times, but one that I will never regret.  I believe we all have something to share with people, and I'm so grateful to be able to share what my husband and I have here.  I hope that people looking to find something a little different with horses will come across this blog and perhaps investigate further as to the magic of horses..............
Terri
The sun has finally come out..... although, last evening between the rain and the dark clouds, a beautiful double rainbow appeared, rain and dark clouds reappeared and then the sun came out..... all within the time span of a very difficult situation happening at our farm.
Our farm, our horses, Donna and Ingrid, our boarders, my friend Anne , my husband Rick , myself and a very wonderful girl lost a friend last night.  His name was Sully and he came to our farm, with his sisters by a very incredible way.  His mom, Sara is a very dear friend of a friend and because things always happen for a reason, Sara showed up with her 3 lovely horses about a year ago.                                                
Sara and her horses were a wonderful addition to our small family of horses and owners and it didn't take long for her to fit into our quiet ways at Blue Heron Stables.  Her little guy was a joy to be around and watch.  He was the brother of 2 sisters and the smallest of two warmblood girls.. but he was respected, loved, played with by both Donna and Ingrid and I know that tonight, they know that their brother will not be with them in body, but I do believe they have a sense that Sully is with them in spirit. 
We can only hope that as time passes by , we too will come to believe that Sully is running in fields of clover and green green grass with others who have gone before him.
I had the privilege of spending time with Sara and Sully during his last hours. To go through such a loss is a very personal time and situation, and I'll always be grateful to Sara for trusting me to be there at the right time for her.  Sara and Sully had such a wonderful young woman who helped him through his last moments.... we were all very lucky. 
Sully is no longer here in body, but for me personally, he will always be on our farm in my mind and his spirit will always be felt in the barn, in the paddocks in the pastures.  May he run through fields of green grass and lay underneath the stars, knowing we will always think of him.
You will be forever missed my friend :)
It's a wintering Sunday afternoon and I thought I'd just sit down and reflect the events of the past 3 days.  My friend Anne Gage and myself conducted our first WOMEN, WISDOM & WHISPERS clinic this past Thursday and Friday.  Doing a 2 day clinic during the week might have been pushing the envelope but I really wanted to try it and I decided to follow what my heart was saying.
Now, with the flyers and the advertisements and facebook and emails, you would think we would have a waiting list of women wanting to join us for these 2 days, but what we did end up with was a wonderful group of 5 women (which I was thrilled about) join us at Blue Heron Stables.  These 5 women did not know each other but at the end of the 2nd day you would have thought we had known each other for years.
The love of horses is what drew these women together but it was connections of body, mind and spirit that jelled all of us women at the end of the course. 
Our theme was the Intuitive Connections between Horse and Human and the experiences that were shared between all of us brought tears and laughter and a bond that will last a lifetime.  Between discussions in the coziness of the livingroom to the work with the horses in the arena, it brought about feelings and AHA moments for all of us. 
As the owner of the wonderful horses that we worked with during the 2 days, I have to say that I was practically brought to tears by the calmness and the relaxation of both the horses and the women.  The energy in the arena was electrifying as there were personal moments for each and every one of us.
I would like to personally thank Anne for her knowledge of horses and life experiences that she brings to these clinics and I'm grateful for her friendship.  We truly do work well together.  I would also like to say how grateful I am to beable to provide a space where women can come together to share, reflect and
be themselves in a safe environment and work with the most amazing animals that god could have created.  Because by providing this setting, I am meeting women I'm suppose to meet and enjoy having the experiences I'm suppose to have.  It's truly a wonderful thing !  So thank you to each and everyone of you
5 women who made the clinic what it was.  Just an incredible experience.
It was a busy weekend, as I did a Reiki course on the Saturday and was also
priviledge enough to have a healing done by the Reiki method as well as a healing done by a Shaman Practitioner.  It was the most incredible experience.  Again, met 2 wonderful women who loved and supported  the events
that happened that day. 
When my husband and I moved to this farm, I had a vision about a year later, and I'll be honest, this is hard to write down, but I'm learning to just be true to myself and be open with my heart, but the vision was to open our farm to clinics such as these and that is why I'm so grateful that Chris Irwin is here to add to his horsemanship clinics with his EAPD Program.  Equine Assisted Personal Development.  And for those men or women interested in learning more about this certified program just go to Chris' website, but if you're heading down a path and any of these words tug at your heart or gut, I encourage you to take a leap and at least inquire about it.  It might just make a difference in your life.  I'm learning to take those extra steps and it makes for a wonderful journey!!!
:) Thank you
January 30th, 2012      It's hard to believe that the first month of 2012 is almost over and even sadder is that I haven't posted anything on my own blog for close
to a year. Not having enough time in the day is just not the best excuse, but sometimes it comes down to, how am I spending my time and am I accomplishing things that I want to accomplish.  On a farm there are certain things that just need to get done, so those things you can't delay or procrastinate on, feeding the horses, cleaning stalls, filling up water buckets, getting a few rides in when possible.  So those things do get done, and over the course of the past couple of years I have started to step out of my comfort zone and have been teaching students, which have increased in numbers over the past 12 months, my husband and I have been hosting successful clinics with Chris Irwin and I have even felt confident enough in what I know to start conducting my own Women and Horse Clinics. I guess by not blogging over the past year, I can now look back and see how far I have come when I talk about my teaching abilities and my comfort level with other knowledgeable horse people.  I have learned so much in the past 6 years since we have been on our farm and I'm grateful for the many people who helped me to reach my goals. I am doing exactly what I had hoped to do with horses.....connecting people and horses in the most inspiring ways. And what's beautiful about what I do, is the
connection that teenagers and horses are developing, but also daughters and mothers, daughters and fathers, women and horses and men and horses and husbands and wives and horses.  I may not be sitting on 25 years of horse experience or coaching or training, but during the past 10 years I have gotten my feet wet with the do's and don't s of buying horses, learning how to trailer horses to eventing shows, reading and watching and going to clinics and listening to the likes of Chris Irwin, who with his method of teaching led me through a door that showed me the possibilities that horses had to offer all of us.  It's knowledge that I believe, once you know it, it would be very difficult to go back to anything else in regards to the connection and relationship you might have with your horse.  It's like learning English....once you know it, it becomes second nature...I truly believe that once you speak the language of the horse it also becomes second nature...and it's been a gift and pleasure to be able to share that knowledge and I'm grateful to those that have supported me as a friend, a teacher and a coach......these are exciting times, so I'm betting that these blog will be a little more consistant...even if I'm writing for myself, perhaps someone will find something in these words that might change the way they think about horses
/