Shopping Cart
Your Cart is Empty
There was an error with PayPal
Click here to try again
Thank you for your business!
You should be receiving an order confirmation from Paypal shortly.
Exit Shopping Cart
connecting horse and human through body, mind & spirit
| | |
| --- | --- |
| Posted on August 10, 2015 at 8:47 AM | |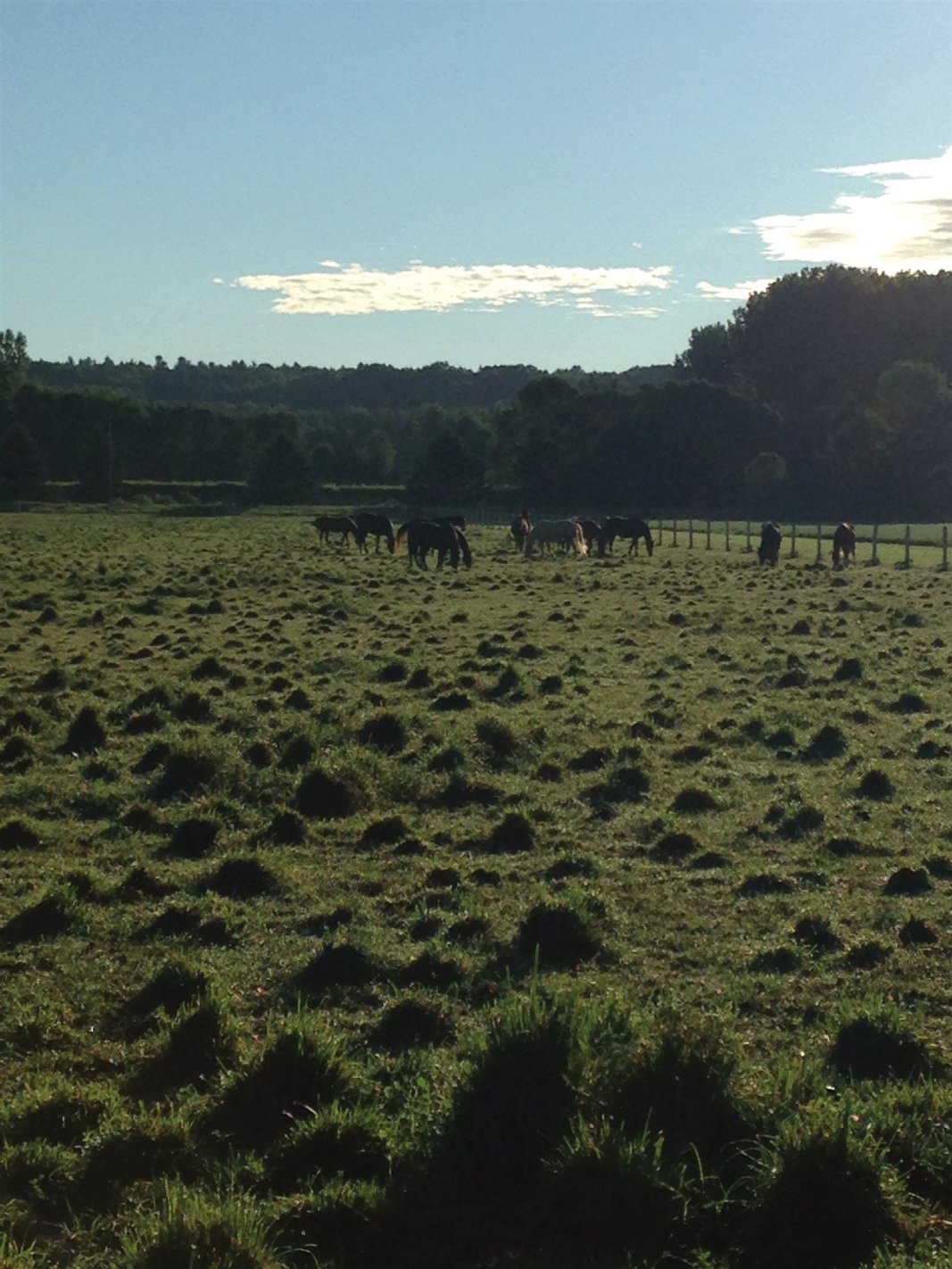 A wonderful friend of mine was out visiting yesterday and as we sat in our gazebo by the pond, she mentioned to me that there seemed to be more of a peacefulness to the property than ever before.  I asked my friend to explain what she meant by that as we had both mentioned that this place always has an wonderful vibe to it, but it seems, it was when she noticed that all 17 horses were now living a life as one herd with no closed gates between paddocks and fields which has allowed the horses to meander from field to paddocks without any restrictions, that there was a sense of ebb and flow.
It's true.  I don't think I have ever seen such calmness and a sense of real community since the horses have been given the opportunity to become one.  I must admit that I am very grateful to be able to provide that for these horses and when my husband and I have company it gives me such pleasure to be able to show our friends a little taste of "free horses". 
I can wake up in the morning and 17 horses are spread from one corner to the other corner of the 14 acres that they have to roam on, or I can come down to the barn and all 17 horses are together in a huddle in one of the paddocks.  Perhaps it's the meeting of the hearts,or some wise teachings being given out by the elders to the young geldings, who can provide so much entertainment by their rambunctious playing. 
So I am glad when I do force myself out of bed early in the morning hours in order that I might capture moments like the one above.  With dots of huge hearts on a green landscape below the blue of the sky, you might think these horses were roaming the foothills out west.  Some may say, it's only 14 or 15 acres, but for me it seems like so much more and it's been beautiful to witness how the horses responded to the space that they've been given.  It's been an ever expanding dream and I'm in much gratitude for those who have supported the unfolding of this vision.

Categories: horse clinics, horse connections, horse training
/